We use the GrowthWheel® – Frameworks and tool-box as one of the primary tool of our Fit for Growth Coaching Programmes
Simple. Visual. Practical
GrowthWheel® Frameworks and tool-box is a visual toolbox for decision-making and action planning for start-up and growth companies.
It helps entrepreneurs and business owners build their businesses through a simple action-oriented process that stays true to the way most entrepreneurs think and work.
For the business advisor, the absolute flexibility of the toolbox means that it can be fully adapted to existing advisory tools and client needs, and it can even be used by clients themselves, thereby saving time for the advisor.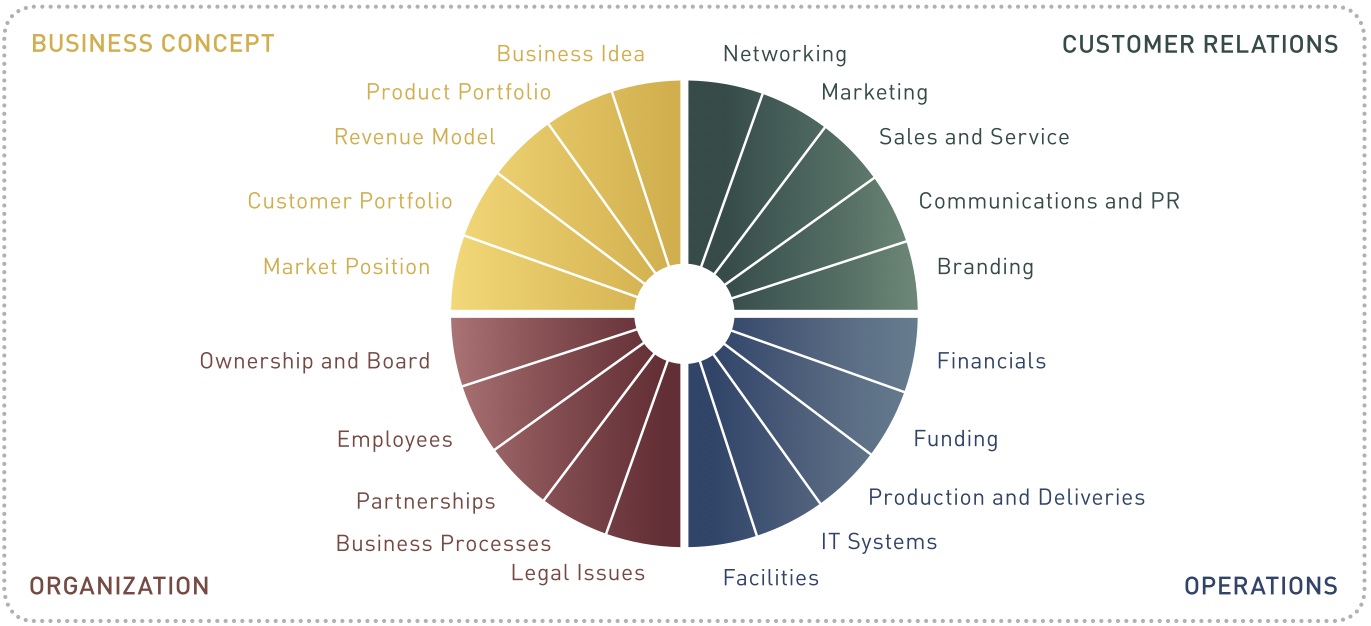 360° Perspective Made Simple

Everything about business in one single toolbox.
GrowthWheel® Frameworks and tool-box was designed around the observation that all businesses – in all industries and life stages – have four lasting challenges in common:
They must create an attractive Business Concept, build a strong Organisation behind it, develop lasting Client Relations, and do so while maintaining profitable Operations.
All Business Decisions Made Visual
Faster understanding. More inspiration. Better communication.
The GrowthWheel® Frameworks and tool-box create a better experience for the entrepreneur because visual tools change the conversation. They make it easier to understand a challenge, they inspire creativity, and conclusions are easy to communicate to outsiders.
The recognisable graphic design in GrowthWheel® Frameworks and tool-box is used across topics as different as product design, recruitment, or financing. Making everything seem equally simple and easy to deal with
Decision-Making Made Practical

Set agenda. Make decisions. Take action.
Every tool in GrowthWheel is designed to work independently. The selected tool can be placed on the meeting table, on the wall, or even shown on a hand held computer device, and the business conversation can begin instantly.
All tools are designed with a suggestion box outlining the intention of the tool, the proposed process using the tool and the suggested Next Steps having reached a decision. The business owner can choose to follow the GrowthWheel® Frameworks and tool-box suggestions or use the tools their own way.
100% Flexible. Reinvented Every Day
A tool for every company and every advisor.
Every day the GrowthWheel® Frameworks and tool-box is reinvented by one of the many hundreds of GrowthWheel® Certified Business Advisors who handpick tools from the wide selection and use them in a certain way.
GrowthWheel® Frameworks and tool-box is fully flexible because each of the tools can be used on their own. The advisor simply picks and chooses the tools that fit the entrepreneur's needs or his or her personal style. There is even the choice of using the tools in digital format or print.
GrowthWheel® Certified Business Advisor
Per Lillie is the first GrowthWheel® Certified Business Advisor i Australia